Welcome
Welcome to the
2021 Genetic Resources Virtual Symposium!

This year we are coming to you in a virtual format due to COVID. The exhibition floor and speakers' agenda are loaded with great content. We hope you find the information relevant to your research, and integral to accomplishing your research goals. The GRCF is always here to assist you. Please visit us, to learn of the multiple services and products offered at the Genetic Resources Core Facility
The conference agenda is available in the Agenda section and includes details about each educational presentation. Please visit the FAQ section for answers to common questions regarding the virtual conference. Please also visit the Sponsors section to learn about this year's amazing sponsors. This symposium would not be possible without our sponsors!


We hope you have an informative and enjoyable virtual symposium experience.
Enjoy!
The GRCF Team
About the GRCF
The Genetic Resources Core Facility is a JHU service center including the Core Store, Biorepository & Cell Center and the DNA Services. Collectively, these groups produce a number of products and services to aid researchers performing studies in molecular biology and genetics. It is our mission to provide high quality, cost effective research services and products to investigators throughout the Johns Hopkins Scientific Community
GRCF Service Divisions
Biorepository & Cell Center: Center facilitates basic scientific research by providing expertise and service in all mammalian cell culture, single cell genomics, clinical trial support and long-term cryogenic storage of biospecimens. The GRCF Biorepository & Cell Center proudly maintains the international quality and regulatory recognition of CAP (the College of American Pathologist) Accreditation. To help further support leading edge research at Johns Hopkins University, the GRCF has worked to develop a single cell genomics facility. Through the joint effort of the GRCF Biorepository & Cell Center and GRCF DNA Services we are able to offer a one-stop single cell isolation (DNA or RNA), sequencing and analysis service. For more information go to http://grcf.jhmi.edu/biorepository-cell-center/
Core Store Core Store provides one-stop shopping for more than 400,000 products from 17 of the leading life science companies. In addition to its product offering, the store charges no shipping and handling fees and has free delivery to the Johns Hopkins campuses – East Baltimore, Bayview, and Homewood. For more information, go to https://grcf.jhmi.edu/core-store/
DNA Services group works together to provide solutions for all of your DNA and RNA needs.  We handle basic needs like DNA isolation, plating and storage, "traditional" core services like Sanger sequencing, PCR support and genotyping, and the more complex needs presented by the constantly changing field of next generation sequencing. For more information on these services please go to https://grcf.jhmi.edu/dna-services/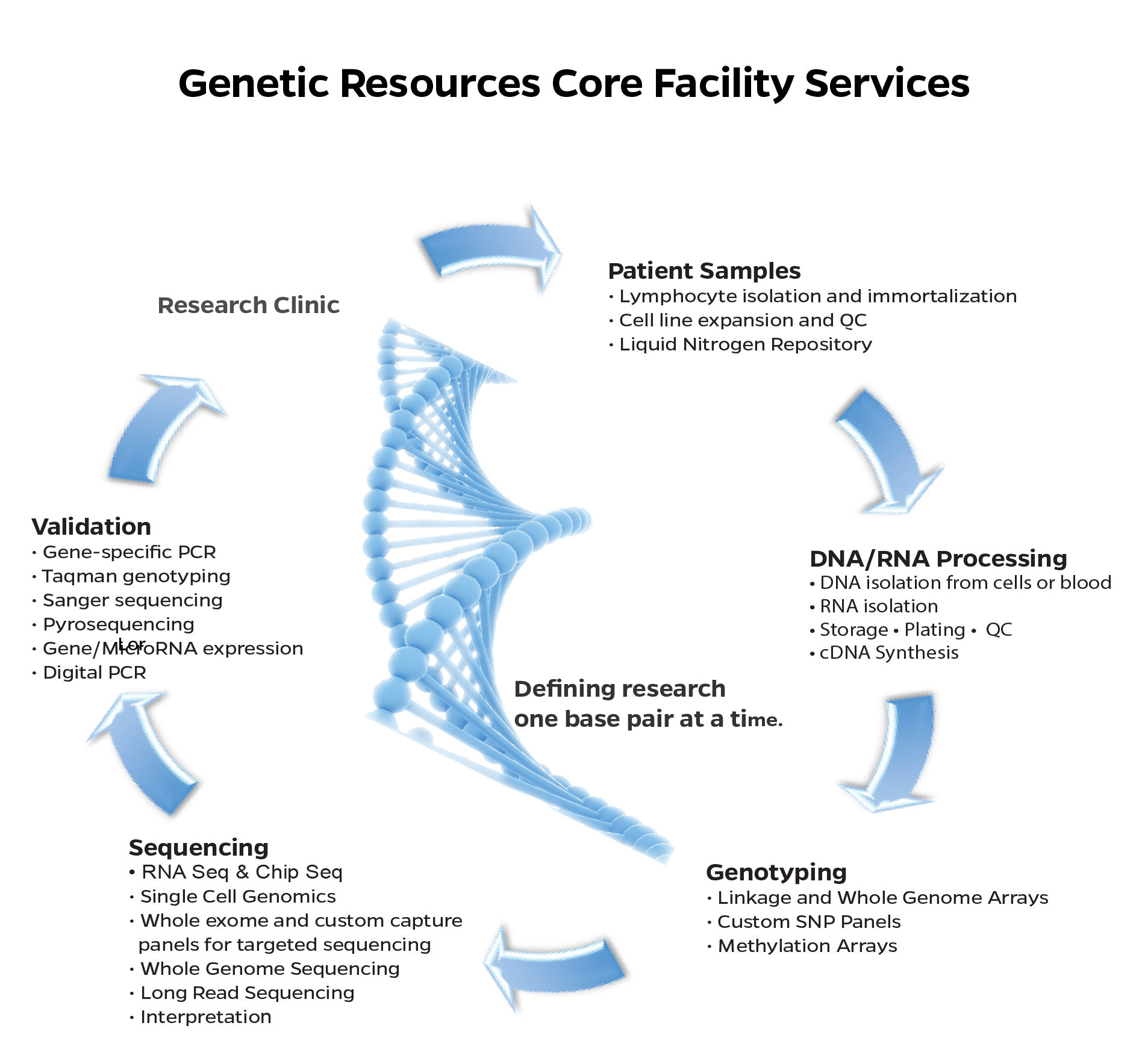 The diagram above illustrates the many ways we work to fill the needs of researchers studying genetic disorders. Our goal is to assist in collecting, processing and banking patient samples. From these clinical samples, we have expertise in generating immortalized cell lines that can be used in future biological studies, or for isolating a single cell for genomic analysis. Furthermore, DNA and RNA from various sources can be genotyped on as few as one variant to over 5 million. If more detail is required, we offer a variety of high throughput sequencing protocols from the capture of exomes or genomic regions of special interest to RNA-seq. All of our high-quality data is processed through our end-to-end pipeline which provides alignment files, variant calls and customizable reports, enabling our researchers to utilize the most appropriate tools for interpreting results. Once a variant is found, we can provide validation by other technologies such as Taqman, digital PCR, Sanger sequencing, etc. In the epigenetic realm, we are able to assist with methylation studies either through genotyping, pyrosequencing or any of the high throughput sequencing options such as CHiP-seq and Methyl-seq. By joining Johns Hopkins Genomics we have expanded our capabilities to allow seamless integration of clinical testing, making the circle from discovery to application complete.